Al's One Page Bio (837kb pdf)

"It all started with two dollars."

In 1974, during a tour break on his high school senior trip to Washington, D.C., Al found the album "Instrumental Music of the Southern Appalachians" in the two dollar bin of a large record store.

When he returned home to Ellicottville, New York (about an hour south of Buffalo), Al began listening to the guitar, banjo, fiddle and harmonica tunes featured on the album—and immediately fell in love with Southern mountain music.

After high school Al attended the Art Institute of Pittsburgh, and besides pursuing photography/multi-media, he began reading every "Foxfire" book he could get his hands on to learn more about the Southern Appalachian culture.



Al, 1976, Pittsburgh, PA

Al also became heavily involved with the traditional music scene in Pittsburgh, and eventually joined the "Run of the Mill String Band" as their upright bass player.

In the spring of 1977, yearning to move to the South, Al met a musician from Watauga County, North Carolina, at a music gathering in West Virginia, and was extended an invitation to visit the Boone area. After experiencing a few days in Boone and making new mountain music friends, Al returned to Western New York, and at the age of twenty-one, gathered his possessions and boarded a Continental Trailways bus en route back to Boone.

Thirty-two hours later, Al and his belongings—fiddle, banjo, backpack and suitcase of clothes (and fifteen dollars to his name)—were set outside the bus station in Elizabethton, TN, the closest stop to Boone.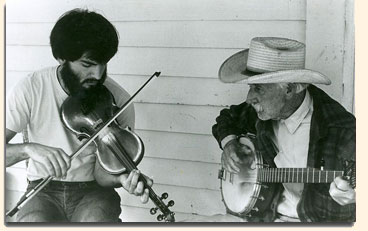 Al and Mack Presnell, 1977, Sugar Grove, NC

After hitch-hiking half of the way, Al found himself walking on a rural mountain road and growing weary from all that he had to carry—he recounted the experience this way, "I was getting tired and I knew that it would be getting dark soon, so I made a tough decision. I decided to hide my belongings off the side of the road and cover them up with tree branches. I marked the location with a couple of aluminum cans and walked the rest of the way to my new-found friend's home in Sugar Grove, NC. I eventually got a ride and retrieved my instruments and gear."

During Al's first weeks in the South, he got busy pursuing his desire to learn mountain music by visiting local musicians and eventually landed in Union Grove, NC, attending a week long claw-hammer banjo workshop prior to the annual Fiddlers Grove "Ole Time Fiddlers and Bluegrass Festival." Eventual four-time Grammy winner David Holt led the banjo workshop.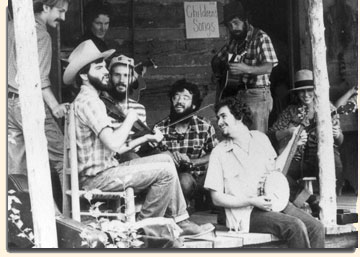 Al (in chair) with members of the Laurel Creek String Band, 1978,
Kings Mountain, NC

"For an entire week, one other musician and I had David Holt all to ourselves," shared Al, "It was an incredible learning opportunity."

After playing fiddle and calling square dances with the "Laurel Creek String Band" in Boone, Al married the former Karen Smith of West Jefferson, NC, and moved to Ashe County in 1980. Over time, family, work, church and a return to college, eventually shifted Al's priorities away from his instruments.

It wasn't until Al moved to Shelby, North Carolina, in the fall of 2002, that he found himself revisiting his love of music. "After I finished my master's degree," shared Al, "It seemed like I had an extra six hours a day, so I got the guitar back out of the closet."

As Al returned to his instruments, it was songwriting that took him by surprise. "Prior to moving to Shelby, I had written a hand-full of songs," shared Al, "In the past four years I've written nearly forty—there's just got to be something in the soil in this area."

Al's heartfelt Americana music style is a unique blend of traditional and contemporary influences. He is a skilled multi-instrumentalist, playing guitar, clawhammer banjo, old-time fiddle, harmonica and upright bass.

As a singer/songwriter, many of Al's songs focus on the themes of love, family and home.

Al presently serves as Sociology Instructor at Cleveland Community College in Shelby, NC (about 45 miles west of Charlotte, NC). Combining his love of music and sociology, Al has created a unique educoncert—"Sociology in Song"—that he has presented at numerous conferences and colleges throughout North Carolina.

It all started with two dollars.


---
Education

Master of Arts—Sociology (2003)
East Carolina University—Greenville, North Carolina

Bachelor of Arts—Sociology (2000)
University of North Carolina at Wilmington—Wilmington, North Carolina

Associate in Arts—Liberal Arts (1996)
Virginia Highlands Community College—Abingdon, Virginia

Art Institute of Pittsburgh (1974-1976)
Pittsburgh, Pennsylvania